Many folks embark upon a home theater upgrade only to find it a tad more difficult than they expected. My goal was to get everything in my Family Room to UHD 4K. While it looks terrible, I was able to achieve that by putting an external rack next to my built-in TV / speaker cabinet. But wait, my house came with built in component racks for this stuff! This is where my hell begins. (Current "hacked" set up next to my TV below).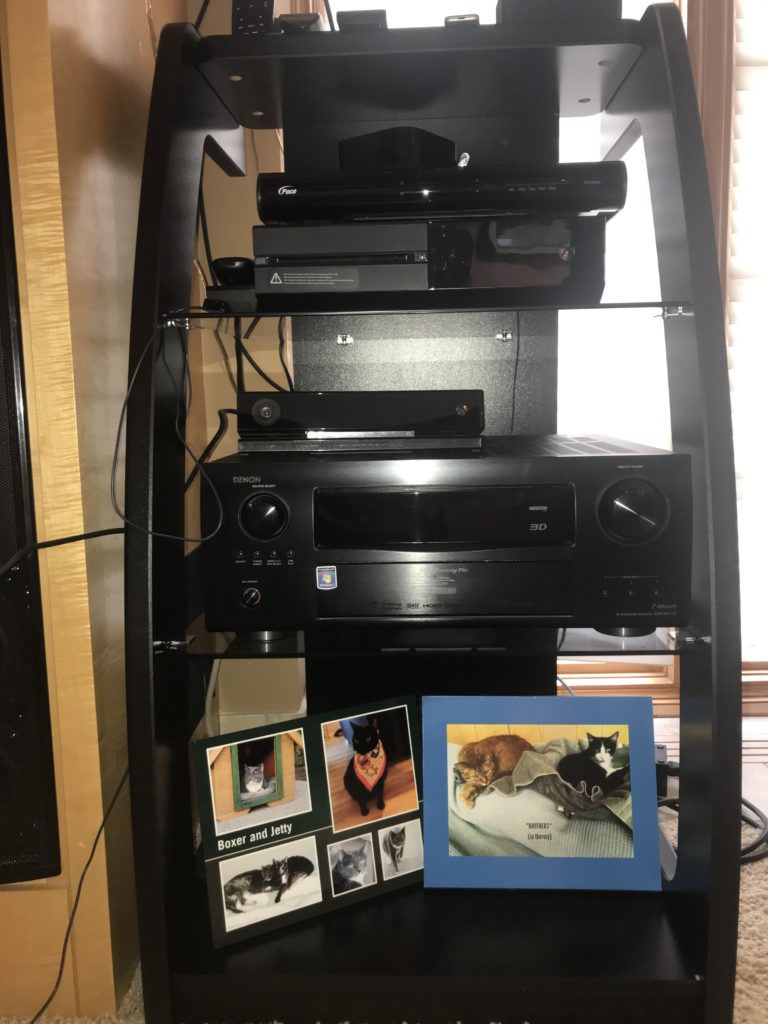 Great House, Great Cabinets, Aging Tech
Almost six years ago, I bought a wonderful house, originally built by the Minnesota Vikings great, Joe Sensor, and later upgraded amazingly by the daughter of the founder of Best Buy. It was clearly Geek Squad city in here for weeks. I have home theater set-ups in both the Family Room and the Media Room in the walk-out basement. Both using embedded racks in cabinets built into the walls with AMX control panels to control everything from window shades, lights, on down to the TV and the components. The main issue I have is that the embedded rack cabinets are on the opposite side of the room from the giant built-in TV / speakers cabinet. The cabinets and the embedded racks are really well designed. They can be pulled out on attachable rails (see below) and have articulating wire guides. There are two racks – one for the main components of receiver, amplifier, etc. and a second one for old accessories that are now unnecessary such as DVD players, CD players, Blue-Ray, VHS, etc. Pretty cool racks huh?
Attachable rails

Rack pulled out onto rails

Rack pulled out onto rails

Cable guides

Left cabinet pulled out

Left cabinet
This does not sound terrible at first consideration until you realize it was built around 2005 before HDMI cables, HD or UHD. It was even before common use of Cat-5E or Cat-6 Ethernet cables. The TV and components in the house when I bought it were pre-HD. For goodness sake, we cannot have that! I would lose my Platinum Couch Potato card.
So What is the Problem?
So the main issue is getting the UHD 4k Receiver connected vi HDMI 2.0 to the UHD 4K TV across the room (thus my hacked set up with external stack next to the TV cabinet). Unfortunately, the Geek Squad (or home re-modelers) left no auxiliary conduit between the racks and the TV cabinet. The conduit used between the rack and TV is absolutely stuffed with speaker wires and various coax wires. It is impossible to re-fish anything through that mess.
Potential Solutions to Home AV Hell
Fortunately, there is one Cat-5 (not Cat-5E) wire that seems to run directly between the racks and the TV cabinet. I have not buzzed it out to test if it is a "direct" point-to-point wire or if it goes through one of the basement Ethernet "home run" switches. It turns out, there are a few HDMI UHD 4K extenders that run over Cat-5E or Cat-6. While the cable I have is Cat-5 – it might work if the distance is short enough. So an HDMI Extender over Ethernet is my best option.
Of course, there is also the option to rip up the walls, ceiling, floor and run a 50 foot HDMI cable rated for UHD 4K. Of course while I was in there, I would add a bunch of Cat-6 cables for any type of future expansion since that seems to be the type of network cable used for wire converters. This seems crazy expensive considering the path through my walls that would be necessary (the room is 2 stories high) and I don't have the home wiring diagrams as to the routes they took.
One other option I have is a wireless HDMI solution. Right now, I only see systems that support HD quality HDMI over wireless. This might have to be the setup I use when I sell the house so that everything is in an enclosed cabinet and the place looks high tech (even though it will be low tech HD). UPDATE: I just found some wireless UHD 4K @ 60 Hz by J-Tech. $500 for the pair. If the $300 Ethernet based pair do not work due to my cable only being Cat-5 and not Cat-5E, I now have an option. It says line of site. I wonder if I could cook a hot dog on one of those antennas.
Conclusion – more to come
I have ordered the "No Hassle AV" UHD 4K Extenders (see Ethernet extender link above) that run over Ethernet. I will test them and see if it will solve my dilemma. I will post updates back here as I make progress (or lack of progress). Comments and feedback welcome on Facebook where I posted this article.
Ted Cahall