Getting my latest NUC
I am pretty psyched to get my latest Intel NUC.  The NUC7i7DNKE has an 8th generation Intel® Core™ i7 vPro™ 4.2 GHz "Turbo", quad core processor with 32GB of DDR4 2400 MHz RAM and a 1TGB SSD drive.  Not to mention built in 4K UHD video with HDMI ports and USB 3.0.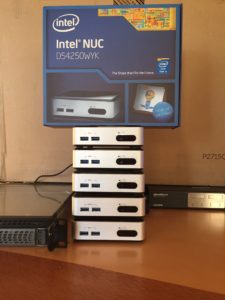 I will use this as my main development machine.  It is crazy that I tend to run out of RAM on my 16GB machines running Ubuntu.
This will be my 9th NUC.  Maybe I am a little too in love with these things.  They make great clusters for home research and development on distributed technologies such as Cassandra and Hadoop.  I have three nodes running Cassandra and Hadoop today – and am looking to add a 4th node when I free up my current development machine NUC.
Quiet, Low Power, great for clustering!
They are whisper quiet and use very low power.  There are 5 in a stack sitting on my desk next to me as I write this, and they make less noise than a single standard PC.  In fact, they seem to make no noise at all.
I also run Windows 10 on one as a home theater type of PC connected to a Samsung UHD TV via HDMI.  These NUCs are awesome.  I gave my old i3 core media NUC to my younger brother as a gift.
Here is an old picture of my early stack of NUCs.  They are each 4″ x 4″.